Some PDF documents contain forms that we may need to fill out. Many users are accustomed to printing the PDF document to fill out the form manually on the printout. This means more work for the user and a document that looks unprofessional. In fact, you can directly fill out PDF on your Mac computer. It's more time and effort saving. Flyingbee Reader is likely capable of form editing so that the document can be filled out on the computer.
A Brief Introduction to Flyingbee Reader
Flyingbee Reader is a fast PDF reader for Mac that offers several extras over the more common Preview. The great software is faster than Preview in all regards, which is most noticeable when PDF documents are opened on the Mac.
With Flyingbee Reader, we can fill in any PDF forms. Scroll down to the step 1 to learn how to fill in PDF forms with Flyingbee Reader step by step.
How to fill out PDF forms with Flyingbee Reader
Step 1 Launch the PDF viewer-Flyingbee Reader for Mac
First, you will need to make sure that Flyingbee Reader is installed on your Mac. Once you have installed the application, launch it. To open the PDF form you want to fill out, please click file>open…on the menu.
And you can also double click on the file to open it directly in Flyingbee Reader if you have set it as your default application for opening PDF files.
In this section, a problem should be taken into consideration: Is the form fillable?
Not all forms are fillable. Sometimes form creators don't convert their PDFs to interactive fillable forms. Or, they intentionally design a form that you can fill in only by hand. These forms without fillable areas are called non-interactive forms.
Filling out interactive forms
An interactive form contains fields that you can select or fill in. To fill out an interactive forms, just click on the filliable area, and fill in the entire form with typing text information or numbers or checkmarks or selections.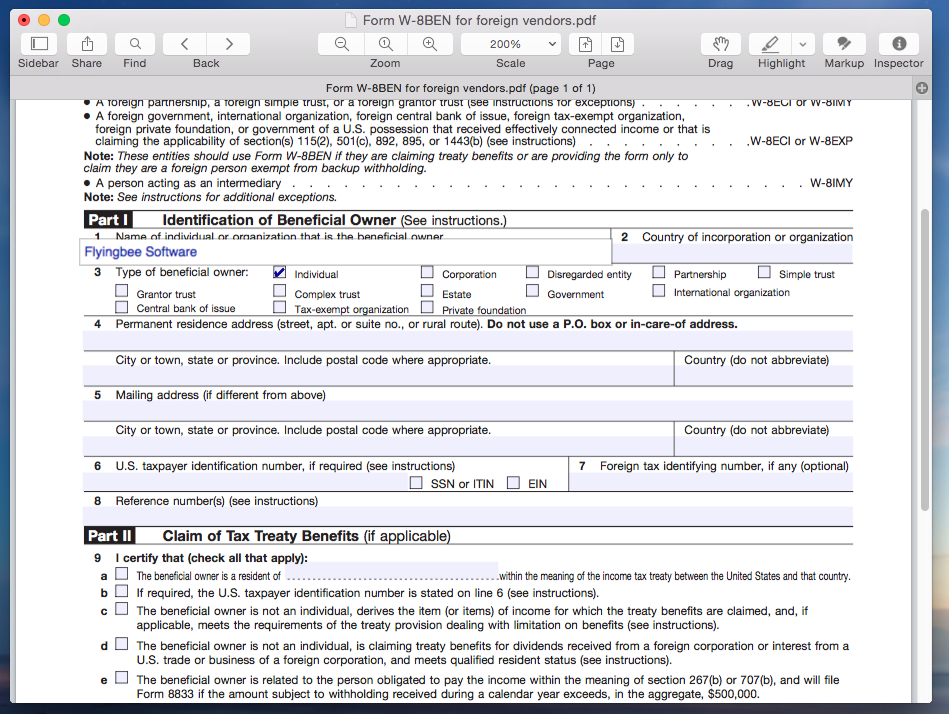 Filling out non-interactive forms
For non-interactive form, simply click the "Markup" button and then select the Sticky Notes and Text Boxes that you want to use and drag it to anywhere on PDF file. You can then just type the information that you want to add. Highlight, underline and pencil can be used in the checkbox. The colors for all annotations can be changed.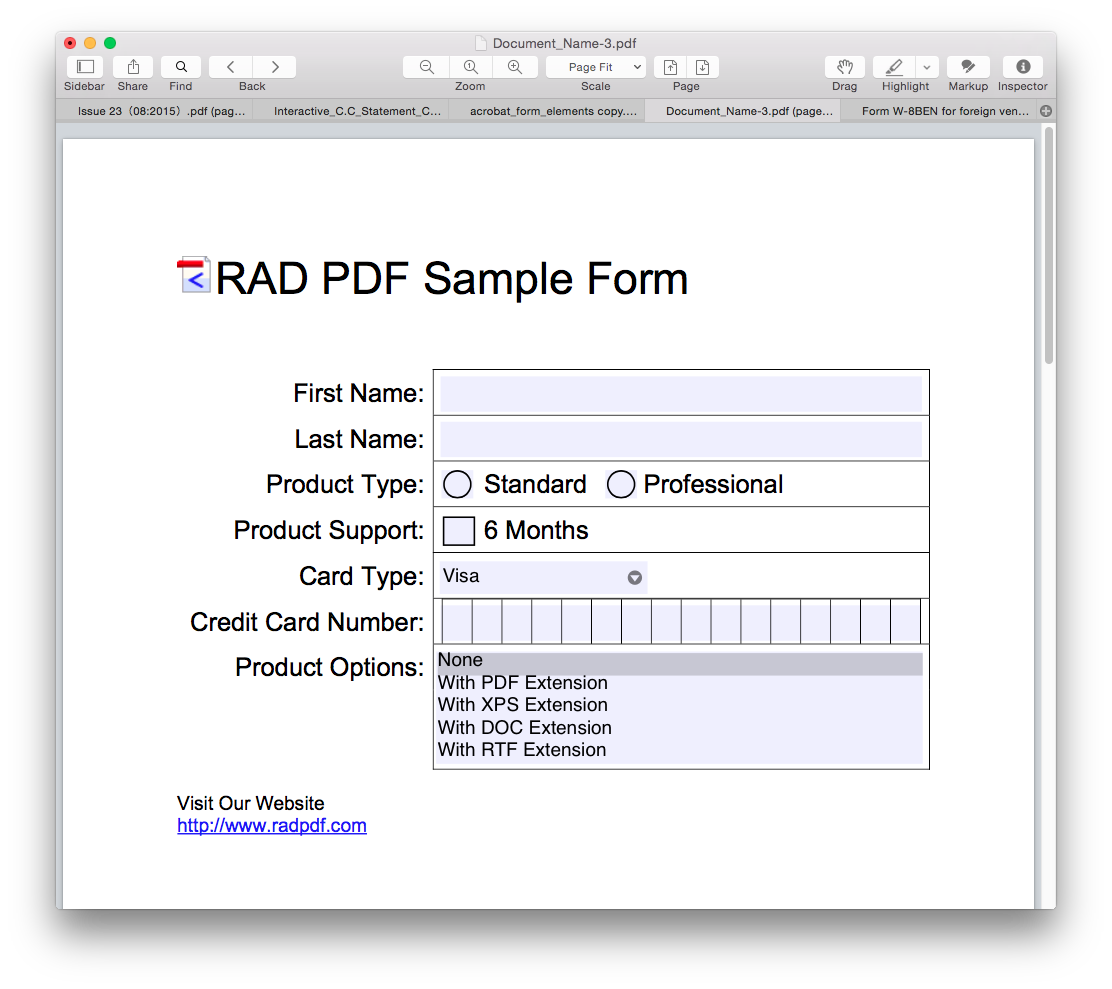 Related articles:
How to highlight text or words in Flyingbee Reader
How to strikethrough text in PDF file with Flyingbee Reader
How to underline text in PDF files with Flyingbee Reader
How to Annotate PDF files on Mac
Many forms need signature for confirmation. In Flyingbee Reader, users can easily sign their form with customized digital signature. To add a signature, please click markup button and then select signature, put it anywhere need a signature on the form. If there is no signature, just create your own one in creation box.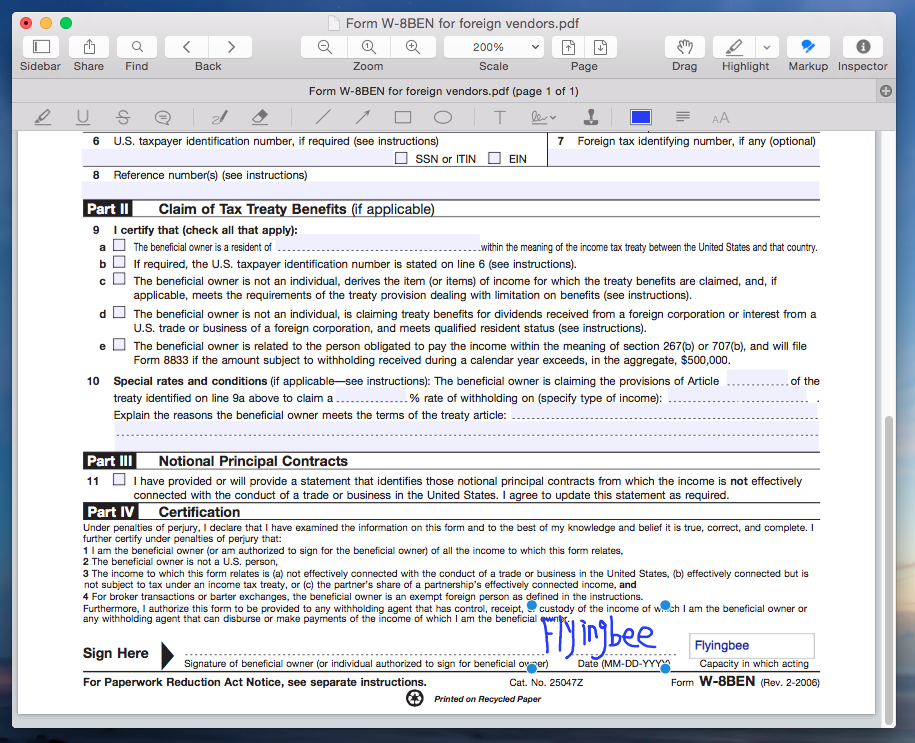 After we finish filling forms, we need to save them. To save the completed form, choose File > Save As and rename the file.
To protect our completed form, please read:
How to Secure PDF on Mac OS X by Flyingbee Reader
Filling out PDF forms on a Mac OSX powered machine has been easier thanks to
Flyingbee Reader for Mac
. Since interactive forms are recognized by the program, users need to simply click on the field to fill it out and begin typing. Meanwhile, users could also add annotations as a text field for non-interactive PDF forms.